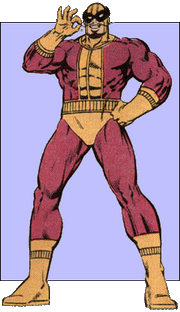 Batroc the Leaper (Georges Batroc) is a villain from Marvel Comics. His first appearance was in Tales of Suspense #75, 1966.[1] He is a mercenary and a master of the French form of kick boxing known as savate.
Writer Mark Waid described the character as ahead of his time, elaborating "He was a Jean-Claude Van Damme, but he was in the 1960s."[2]
References
↑

Misiroglu,Gina Renée &Eury, Michael, The Supervillain Book: The Evil Side of Comics and Hollywood, 2006, p. 439.

↑

Script error: No such module "citation/CS1".