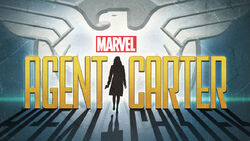 Marvel's Agent Carter is a eight episode TV show that is currently airing on ABC. The story follows Peggy Carter, a secret agent working on secret missions in the 1940s era.
Overview
[
]
Season 1
[
]
"It's 1946, and peace has dealt Peggy Carter a serious blow as she finds herself marginalized when the men return home from fighting abroad. Working for the covert SSR (Strategic Scientific Reserve), Peggy must balance doing administrative work and going on secret missions for Howard Stark all while trying to navigate life as a single woman in America, in the wake of losing the love of her life – Steve Rogers."
Courtesy of: Marvel
Season 2
[
]
"Dedicated to the fight against new atomic age threats in the wake of World War II, Peggy must now journey from New York City to Los Angeles for her most dangerous assignment yet. But even as she discovers new friends, a new home and perhaps even a new love she's about to find out that the bright lights of the post war Hollywood mask a more sinister threat to everyone she is sworn to protect."
Cast
[
]
Starring Cast
[
]
Hayley Atwell as Agent

Peggy Carter

James D'Arcy

as

Edwin Jarvis

Chad Michael Murray

as Agent

Jack Thompson

Enver Gjokaj

as Agent

Daniel Sousa

Shea Whigham

as Chief

Roger Dooley

(Season 1)

Wynn Everett

as

Whitney Frost

(Season 2)

Reggie Austin

as

Jason Wilkes

(Season 2)
Supporting Cast
[
]
Lyndsy Fonseca

as

Angie Martinelli

Bridget Regan

as

Dottie Underwood

Kyle Bornheimer

as

Ray Krzeminski

(Season 1)

Meagen Fay

as

Miriam Fry

(Season 1)

Ralph Brown

as

Doctor Ivchenko

(Season 1)

Alexander Carroll

as Agent Yauch (Season 1)

Currie Graham

as

Calvin Chadwick

(Season 2)

Lotte Verbeek

as Ana Jarvis (Season 2)

Kurtwood Smith

as Vernon Masters (Season 2)

Ken Marino

as Joseph Manfredi (Season 2)
Special Guest Stars
[
]
Dominic Cooper as

Howard Stark

Neal McDonough as

Dum Dum Dugan

Costa Ronin

as Anton Vanko

James Austin Kerr

as Jonathan "Junior" Juniper

Leonard Roberts

as Samuel "Happy Sam" Sawyer

Richard Short

as Percival "Pinky" Pinkerton

James Urbaniak

as Miles Van Ert

Ray Wise

as

Hugh Jones